Reservations for 2022 begin Jan. 1st!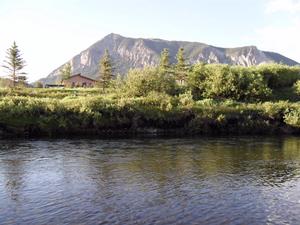 Rates vary by site selection & dates.
See our "Rates Overview" page.
To determine rate for your dates, enter dates into reservation form.
Available sites,along with corresponding rates, will display below.
Base rates during regular season are between $75-$95/nt. This includes 2 people, 1 vehicle & 1 camper.
Additional charges apply to pets, extra people, extra vehicle, and trailers (when space allows).
Standard rates are for Standard size sites with 30amp electric service.
Premium rates are for Riverfront and oversized sites with 30 or 50amp electric service.
Ultra Premium Sites,(mostly) Riverfront and oversized sites with 50amp. Our best spots! These fill up quickly!
Rates are based on double occupancy, charges will be made based on actual group size.
A 50% deposit is taken when reservation is made. Ask about our cash discount for balance due upon arrival.
DISCOUNTS:
We offer a Military, Veteran, and Law Enforcement discount of 5% off total rate.
We do offer a weekly discount, after the first 2 weeks, of 10% off (14-29 days). Monthly disounts of 15% are offered for stays over 30 days (incomplete months, after the first 30 days, can be pro-rated). Discounts apply to base nightly rate, not to additional people, pets, or vehicles. Weekly and monthly visitors must qualify, which includes occupancy limits, and working and/or residing outside of Gunnison County.
Discounts are not valid for the month of JULY. Nightly stays in July will qualify for minimums required to meet weekly & monthly discounts for June/August.
If you have any trouble using the reservations page,
or if you have other questions; please contact us!!
It is helpful to give us the following information:
Size & type of RV- Motorhome, 5th wheel, travel trailer, truck camper, etc.
Are you towing a vehicle?
Number of people in party (Rates are for 2 people, $10.00 each additional person 5 years or older, 6 people maximum per site.)
You can also make a reservation for private fishing (only 2 people on the river at a time)
Unguided; with guide service available upon request:
$35 Morning fishing off the river by 1:00pm
$35 Afternoon fishing until dark
$60 Full day
Please see our detailed
policies
page for more information. We stand by our policies and do enforce them. Be aware, due to our small size and remote location, cancellation policies are strict! Please read carefully!